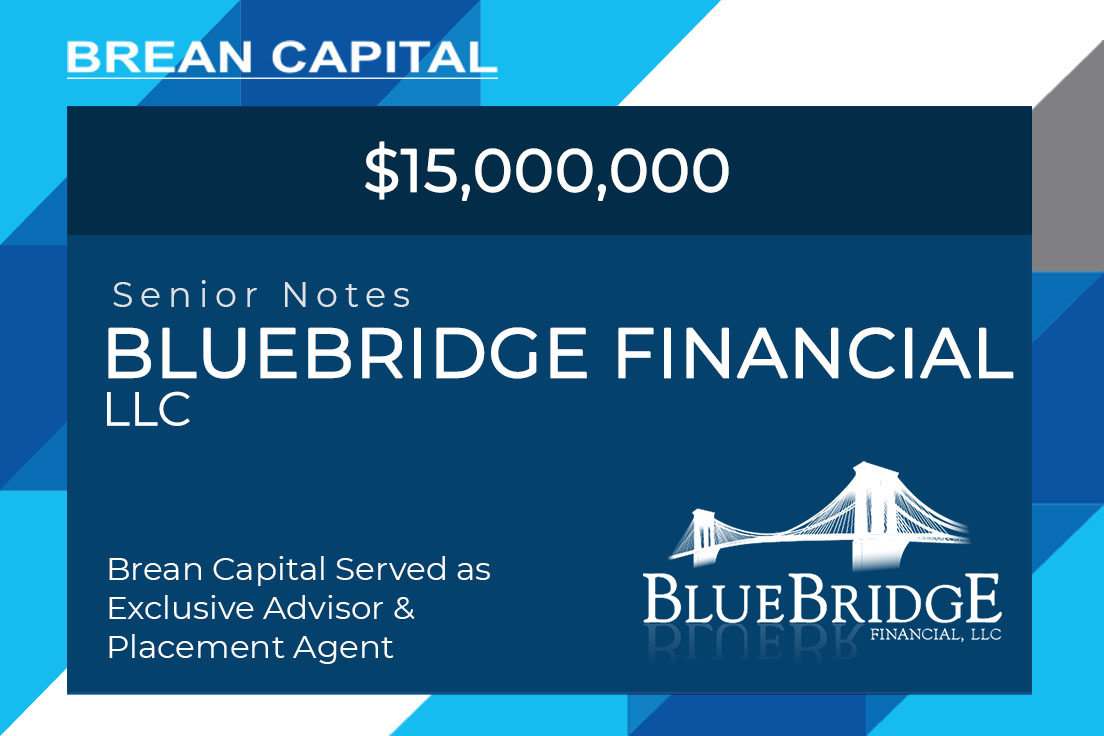 Reston, VA – Blue Bridge Financial, LLC ("Blue Bridge"), a leading independent commercial equipment finance company, announced the upsizing of its existing corporate notes to $15.0 million. This incremental capital raise follows the company's previously announced three-year extension of its corporate notes and one-year extension of its revolving credit facility. Proceeds from this transaction will be used to leverage the company's credit facilities and support the continued growth of the Blue Bridge financing platform.
Brean Capital, LLC served as the company's Exclusive Advisor and Placement Agent in connection with this transaction.
"The upsizing of our corporate notes is a strong endorsement of the stability and success of our company in a challenging environment and of our mission to transform the way businesses access capital," stated Steve Dervenis, CEO of Blue Bridge. "With this additional funding and our existing credit facilities, we are well positioned to support our clients' financing needs and growth in the new year."
Blue Bridge Financial, LLC is a specialty finance company and leading provider of commercial financing solutions for small business borrowers as well as manufacturers, vendors and distributors of commercial equipment. The company is headquartered in Reston, Virginia, with offices in Buffalo, New York. To learn more about Blue Bridge Financial, visit www.bluebridgefinancial.com or call 716-204-8467.
Brean Capital's Investment Banking Group is dedicated to helping its clients achieve their strategic and financial goals. For more than 40 years, the Firm has specialized in providing capital raising, M&A and financial advisory services to middle market businesses. Throughout its history, Brean Capital has established a track record of providing its clients with deep market industry knowledge, commitment and experience to ensure a successful transaction. For more information, please visit: www.breancapital.com/InvestmentBanking.
Interested to learn more and see how Brean Capital can help your business? Contact the team below: